The course consists three nights at Park Hill Community Education Center and three full days of on-the-water instruction at Smithville Lake.  Instruction is tailored for adult students. All instructors are members of Paradise Point Yacht Club and have years of combined sailing experience.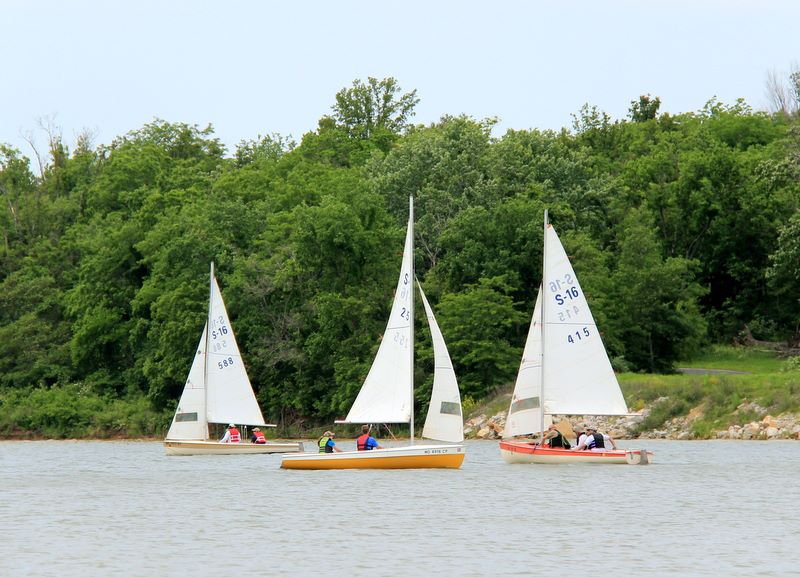 Students will learn how to sail and operate safely.  With this comes knowledge of sailing terminology, small sailboat handling, the physical principles of sailing, right of way rules, impact of weather, and a smile that possible can never be removed. A textbook is provided by the instructor at the first classroom meeting.  Instruction will utilize small cruisers – 22′ to 30′ – and is intended to ensure students will have the confidence to continue the sport of sailing as a life long hobby and be comfortable buying their first sailboat.
Each student is required to provide their own PFD (lifejacket). Appropriate attire for the weekend sessions will be discussed at the first class meeting.  Expect to get wet!  P.S. You will get wet!
Tuesday classes meet 6:30 to 8:30 pm at the Park Hill School District Community Education Center. Weekend classes meet at Sailboat Cove on Smithville Lake near Paradise, MO, from 9 am to 3 pm. Students should bring a lunch for the weekend classes on the lake.
At the conclusion of the course, students complete both a written and an on-the-water test, where students must maneuver a sailboat over a predefined course with the aid of one other person. A certificate of completion is awarded on successful completion of the course requirements.
Locations

Park Hill Community Education Center – 7703 NW Barry Road
Sailboat Cove – Smithville Lake – Paradise MO

2018 Course Schedule

Classes at Park Hill begin Tuesday the 29th of May at 6:30 to 8:30, for three consecutive Tuesdays.  On-the-Water instruction starts the following weekend, with the class divided into a Saturday crew and Sunday Crew, again for three weekends.

Registration and Fees

Information about registration will be in brochures mailed out by the Park Hill School District Community Education department by April 15th. Registration will also be available beginning April 18th on their Community Education website at https://commed.parkhill.k12.mo.us/.